Get Your Free Ebook From Pastor Greg Laurie!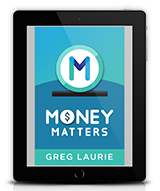 In Money Matters, Pastor Greg Laurie provides insight into what the Bible has to say about our finances. As stewards, what should be our perspective of money, and how are we to put it to use for God's glory?
Does God expect us to give all of our money away to the poor? Is He angry at us for using money for the things we want? What about the things we need? Is it a sin to worry about money matters? Get answers to these questions and more in this penetrating study of an oft-abused and neglected topic.
Let us know where to send your free ebook: