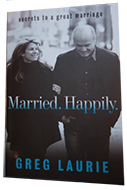 As Thank You Gift With Your Support of Harvest
People scour the Web for endless hours to find good investment advice, or read consumer magazines by the dozens before buying a car. But next to your relationship with God, there is no greater investment on earth than in a happy and successful marriage. Finding God's counsel, warnings, and wisdom on marriage and the home is better than pure gold – and will pay generous dividends for generations on earth and on into eternity.
In eleven insight-rich chapters, Pastor Greg Laurie opens God's Word to show husbands and wives how to find oneness and harmony in their lives together – and how to avoid the common snares and perils along the way.
We'll send you Married. Happily. Book as a thank-you gift for your donation.
Harvest Christian Fellowship is registered as a 501(c)(3) non-profit organization in the United States. Donations to Harvest are tax-deductible to the extent permitted by law and are used to further our mission. Harvest's tax identification number is 95-3060779.