Free ebook: Angels and Demons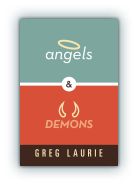 All around us is a supernatural world that we seldom think about. It's a world of angels and demons, and the spiritual battles that rage between them.
How do angels impact our daily lives? What is their mission and purpose? Is it possible to actually see these undercover agents?
Get answers to these questions and more in a new ebook from Pastor Greg Laurie called Angels and Demons.
This ebook is our gift to you as a friend of Harvest Ministries. We hope it's useful in helping you understand these spiritual beings, and how they impact our lives.
Let us know where to send your free ebook: